1. Name:
snapes_mistress or Tara

2. Age: 24

3. Location: Downtown Charleston, SC

4. Gender: Female

5. What do you like most about 90s alternative music?
This may be tough to explain... I feel like alternative music of the 90's simply ROCKED more than most current music. It had a harsher, harder, more "angry" sound, which I've always been drawn to. The lyrical content was easier for me to relate to: Nirvana spoke of depression, the Pumpkins of melancholy, Pearl Jam of general societal and family ills... I can't think of many current artists whom I enjoy as much. (Except maybe Audioslave, but they don't count, because they were all members of alternative 90's bands, haha.) Does that make any sense? (Also, I was a teenager at the time, so alternative music was the perfect soundtrack to my stereotypical angst. Ah, those were the days...)

6. Top 5 90s alternative bands.

For me, it's:
**Nirvana
**Alice in Chains
**Soundgarden
**Pearl Jam
**Smashing Pumpkins

7. Top 5 90s alternative albums.

**Nirvana, Unplugged
**Smashing Pumpkins, Mellon Collie...
**Poe, Hello
**Pearl Jam, Ten
**Nine Inch Nails, The Downward Spiral. (This list is incredibly cliche, yes, but hell, it's the truth.)


8. Top 5 90s alternative songs.

My favorites are:
**Soundgarden, "Fell on Black Days"
**Pearl Jam, "Black"
**Nirvana, "Heart Shaped Box"
**Alice in Chains, "Them Bones"
**Smashing Pumpkins, "Zero"

9. Which 90s alternative band do you hate or like the least.
I was never really big on Marilyn Manson, if he counts as alternative. I don't dislike him, I just think he tried waaay too hard to be Trent Reznor. I do like some of his stuff, though.


10. Most attractive/best looking 90s alternative musician.
Ohhh, this is hard... Trent Reznor, followed veeeery closely by Eddie Vedder. ;) Trent only wins out because of his fabulous nose.

11. Best voice?
Chris Cornell, again followed closely by Eddie Vedder.

12. Most talent?
Trent Reznor

13. Tell a little about yourself. Just something to get to know you better.
I'm a super-senior in college, studying psych and sociology, and I work with abused kids. Also, I'm presenting a paper about the Seattle grunge scene next week at a conference, which I'm reeeeeeally nervous about.

14. Any other music genres you love?
Southern rock, blues, classic rock, metal, some old-school country, some bluegrass, some industrial, classical, and I also love music from India.

15. Post 3 or more pictures of yourself.

Okay, please be kind... I am not exactly Miss Universe, but I promise I'm a nice girl. :)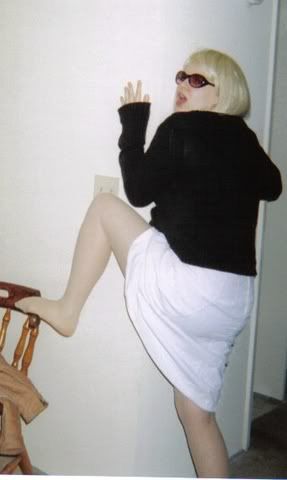 The scary thing is I kinda looked like Courtney Love in this wig... ;)



This was before an 80's party, hence the Dee Snider-ish hair... and I have no idea why I'm pouring the vodka back INTO the bottle... haha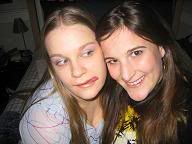 Me on the left, trying to lick my roommate.