1. Name: Adam

2. Age: 16

3. Location: San Diego, California

4. Gender: Male

5. What do you like most about 90s alternative music? It's raw and it's pure. 90s alt music helped redefine rock after the major experimentations during the 80s, but despite it's efforts the rock world has gone downhill a bit since. A lot of it managed to fulfill the demand for teenage-angst music without resorting to crap whiney emo-esue bull like we see today. I was also too young to be into the genre when it was big, so I guess that makes it more intrigueing to me now.

6. Top 5 90s alternative bands.:
No particular order
-Pixies (started in late 80s, ended in early 90s, came back in '04, but they were so influential on 90s alt music - despite them being limited to a cult following in the states with their huge fan base back Europe -that I still count them.)
-Smashing Pumpkins (the band that got me into rock music all together, even though I got into them a year after they broke up.)
-Soundgarden (Mmm, mainstream garage-sound. My favorite of the "big four" of grunge. And one of few non-blues/folk rock bands that can pull off utilizing a banjo in some of their songs.)
-L7 (These girls really know how to make a point while still rockin'. I love their music, but I loved their attitude even more.)
-Pearl Jam (My other favorite of the big four. Eddie Vedder is an amazing song writer.)

7. Top 5 90s alternative albums.:
No particular order
-Pixies, 'Trompe le Monde'(My favorite of their 90s albums, though I liked their earlier stuff better because they utilized Kim Deal's writing and vocals more.)
-Pearl Jam, 'Ten' (Obviously a major cliche, but I prefer it over most of their other albums.)
-Smashing Pumpkins, 'Mellon Collie and the Infinite Sadness' (I loved it because it was so diverse. Also one of my favorite concept albums.)
-Smashing Pumpkins, 'Siamese Dreams' (My favorite of all their albums because it was more defined than Gish, but it still maintained a raw 90s rock sound.)
-Soundgarden, 'Badmotorfinger' (Very garage, but it's a well-defined, skilled garage sound.)

8. Top 5 90s alternative songs.
Once again, no particular fucking order. These might not be my favorite, there's just something that stands out about each one.
-"Dig For Fire" by Pixies
-"I Am One" by Smashing Pumpkins (their first song on their first major release, to me it's like they're saying "Welcome to our fucking world")
-"Ty Cobb" by Soundgarden (A banjo in a grunge song? It worked.)
-"Alive" by Pearl Jam (Cliche, I know. But hey, if a song about incest can work for Pixies, it can work for an American band too, right? Well, it did, and very well.)
-"Mr. Freeze" by K's Choice (Mmm, who doesn't want to hear a song about the chill that comes from your fridge? Especially when it sounds sexual.)

9. Which 90s alternative band do you hate or like the least.
-Red Hot Chili Peppers; Just because I live in California doesn't mean I have to like Californian music.

10. Most attractive/best looking 90s alternative musician.
-The girls from L7. Grungey, outspoken, wild, yum.

11. Best voice?
-Eddie Vedder. But when Francis Black and Kim Deal sing together in a song, they outshine him in my opinion.

12. Most talent?
-Billy Corgan, his talent is being a pompous ass.

13. Tell a little about yourself. Just something to get to know you better.
I got into rock music in 7th grade when someone had me download some Smashing Pumpkins and Nirvana. It took off from there, and now I have atleast a little bit of knowledge in everything from Rockabilly to modern alternative.

14. Any other music genres you love? Blues-rock, general 60's and 70's rock, Jazz, Rythm & Blues, early Prog. Rock, modern alternative, anything I can get my hands on. I even have some electronica on my computer.

15. Post 3 or more pictures of yourself.


Those are airfreshners in my hair.



Mirror pictures are for suckers.



"Hey dad, looky what my new phone can do."



"Hey Larry, looky what my new phone can do."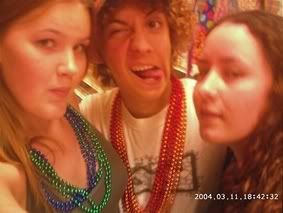 "Pretend you're at Mardi Gra."
"Can I pretend I'm having a stroke, too?"



And here's a random picture of ZZ Top and Johnny Winter I thought I'd throw in.